EPIC AWARD FINALIST!
February 15, 2018

Posted by:

Susan St. John

Category:

Blog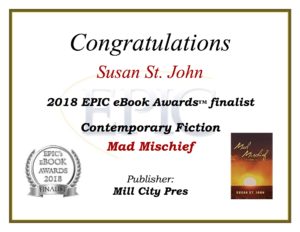 For Immediate Release:
Breakout author Susan St. John's fictional masterpiece, "Mad Mischief," is a finalist in the EPIC ebook Awards, taking the number one spot, among thousands of novelists.  This exciting honor

, formerly known as EPPIE, began in 2000 and has become the oldest competition to recognize excellence in ePublished works, honoring the best of current eBooks from the ePublishing industry. A premier event for authors and publishing houses, winners of the eBook Award receive a stunning trophy as a memory of their achievement.

 We congratulate author Susan St. John on her stunning portrayal of "Mad Mischief's" intriguing characters and captivating storyline, set against the awe inspiring backdrop of Sub-Saharan Africa.  St. John is one of our most gifted storytellers, taking the reader on an unforgettable journey, a life journey.  
Follow "Mad Mischief's" heroine, Sarah, as she confronts her internal and external demons…  While on safari in sub-Saharan Africa, she must contend with not only her own state of mind but the erratic and controlling personalities of her husband, as well as their tour guide. Reality itself is suspended due to a near lethal cocktail of antidepressants and and-malarial drugs. Her savior embodies the elusive wildlife photographer who appears just when she needs him the most.
Visit the official website, MadMischief.com, to download the first chapter for free or  Amazon.com to purchase Mad Mischief and leave a review.